SPEEDY DIGITAL CHECK-IN

So… what is digital check-in?
It's Budget's new time saving service, which allows you to fast-track your rental collection experience by skipping the counter and reducing contact with others when you come to collect your hire car or van rental.

By providing us with a few details in advance which you'd usually have to hand over at the counter, you can save yourself a tonne of time ... it means we can hand you the keys quicker and you can get on your way.

Your vehicle will be ready and waiting, and with our Budget Worry-free Promise you can be confident it has been thoroughly cleaned before your rental.
How does digital check-in work?
It's simple. You can check-in online from the moment you've hit the book button for your next rental.

Click here, or use the button on the booking confirmation page to get started. We'll ask you for a few details – so you'll need to grab your driving licence and a payment card, because these details will be required during the check-in process. Enter all your details, select any options to customise your rental and click done. It's that easy.

Don't have your details to hand? Don't sweat it. There are plenty of opportunities to check-in before your rental. And in case you forget, we'll send you a reminder by email.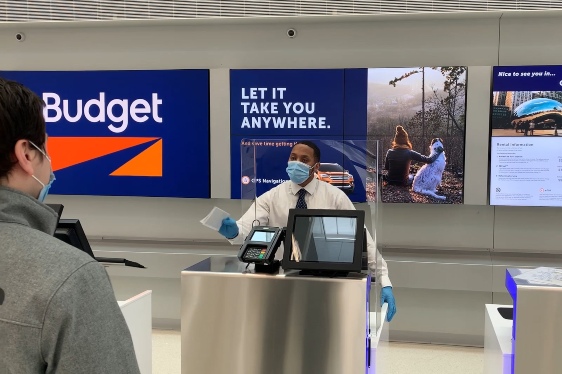 Collecting your rental
The day of your rental has arrived!

When you've reached the Budget rental location, look for the signage that directs you to the key collection point. Here, you'll need to share a couple of forms of identification with us, so we can check your details match, and you are who you say you are. Make sure you have your driving licence, a payment card, and one other form of ID with you (a passport or ID card are fine).

If you've splashed out on a higher value rental vehicle, you may be required to share two payment cards. If this is required it will be highlighted in your booking confirmation email, so double check the email for what is required for your specific rental.

Before handing you the keys, we'll ask you for an autograph (we mean signature) and check you have everything you need. Then, let the adventure begin.

Just a reminder. Don't forget to bring the forms of ID mentioned above. And don't worry, you don't need to print your booking confirmation.